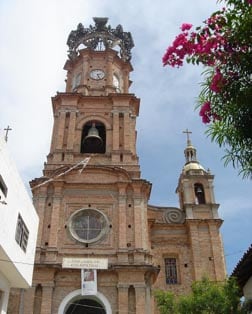 Puerto Vallarta, Mexico
Puerto Vallarta was sleepy no more; its transformation into an international resort had begun. Then director John Huston chose the village as the location for his film "Night of the Iguana," starring Richard Burton. Today, the city has its own "Gringo Gulch," a haunt of the rich and famous. Travelers are also drawn by its climate, its excellent shopping - which offers great values on leather goods, jewelry, and handicrafts - and mile after mile of palm-lined beaches.
Read More

about Puerto Vallarta, Mexico description
Points of Interest
The Malecon

Las Caletas

Church of Our Lady of Guadalupe

Tequila Hacienda

Yelapa

Isla Marietas

Dolphin Encounter

Outdoor Adventure
More about Puerto Vallarta, Mexico Points of Interest
The Malecon

The city's popular boardwalk by the beach is lined with shops, restaurants and artists selling their wares. Begin your stroll at the Los Milenos sculpture by Mathis Lidice and head southward.

Las Caletas

Accessible only by boat, this secluded cove on the southern shores of Banderas Bay is surrounded by lush jungle and features pristine beaches for an exclusive private paradise.

Church of Our Lady of Guadalupe

The cathedral features a gilded crown, a replica of one worn by Carlota, empress of Mexico. A 1995 earthquake damaged the crown and sculptor Octavio Gonzales created its replacement.

Tequila Hacienda

Discover the fascinating process of tequila making, from its origins in the blue agave cactus to your glass, and sample Puerto Vallarta's finest at Hacienda Doña Engracia.

Yelapa

The tiny town and crescent-shaped beach of the same name is situated in a cove off Banderas Bay, south of Puerto Vallarta. Sleepy and remote, the only way to get there is by boat.

Isla Marietas

This series of uninhabited islands offers kayaking, snorkeling or scuba diving around the periphery of the islands where you can bird-watch as it is a haven for all matter of winged species.

Dolphin Encounter

Get acquainted with new underwater friends at the Dolphin Adventure Center. Kids can kiss the dolphins and meet their curious babies, while adults may indulge in a once-in-a-lifetime belly ride!

Outdoor Adventure

Become one with nature as you zipline and rappel through the Mexican jungle, view the countryside by powerful ATV, or go kayaking and snorkeling in the warm waters of Puerto Vallarta.
Special Child Pricing Available! Children age 12 and younger, savings up to 50%.