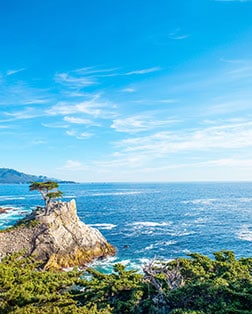 Monterey, California,
One of the most stunning, natural locales on earth, the Monterey Peninsula, with its jagged coastline, deep blue waters, marine sanctuaries and cooling cypress forests, is so jaw-droppingly beautiful it has inspired artists and writers Robert Louis Stevenson and John Steinbeck on its fabled shores. Just 120 miles south of San Francisco, Monterey was first settled by the Rumsien, a Native American tribe; then, European settlers established a Royal Presidio and Mission in 1770, today one the most authentically restored Franciscan missions. Monterey's friendly community takes pride in its maritime heritage. A walk down iconic Cannery Row reveals its past as the West's sardine capital, and the world renowned Monterey Bay Aquarium is a celebration of all creatures of the sea. Top it off with freshly caught seafood and a tasting of local, hand-crafted wines for a perfect day. Nature lovers will relish the opportunity to bike along tree-lined trails or drive the 17-mile road, a spectacular stretch of coastline real estate that includes Carmel, the seaside, star-studded town that boasts cottage-style curio shops, tiny candy stores, cafes and fashionable boutiques, and the legendary Pebble Beach Golf Course. From sandy beaches to salt-water taffy, Monterey offers the quintessential California experience to those lucky enough to grace its shores.
Read More

about Monterey, California, description
Points of Interest
Carmel-By-the-Sea

17-Mile Drive

Monterey Bay Aquarium

Cannery Row

Carmel Mission

Pfeiffer Big Sur State Park

Monterey Bay National Marine Sanctuary

Point Lobos State Natural Reserve
More about Monterey, California, Points of Interest
Carmel-By-the-Sea

A favorite getaway for the Hollywood crowd, this charming, European-style village with some of the world's finest scenery is nestled above a sparkling white-sand beach. It offers everything from shopping to art galleries and restaurants, all within walking distance.

17-Mile Drive

The famed coastal route winds its way past the prestigious Pebble Beach Golf Links, the barking occupants at Seal Rock, the iconic Lone Cypress tree and a string of gorgeous mansions overlooking awe-inspiring ocean vistas.

Monterey Bay Aquarium

Explore the wonders under the sea at this world-renowned aquarium, home to incredible tanks filled with sea life and kelp beds. Say hello to penguins, otters and sharks, and interact with hands-on displays and activities.

Cannery Row

Stroll this historic, waterfront district made famous in writer John Steinbeck's colorful stories. Renovated fishing shacks and cannery buildings now showcase a plethora of souvenir shops, art galleries and wine-tasting venues pouring the fruit of the vine from local vineyards.

Carmel Mission

California's rich heritage is found among the blooming gardens that frame this classic, faithfully restored Franciscan mission built in the 1700s. Admire the Moorish architecture, then peruse the artifacts displayed in the small museums and chapel gallery.

Pfeiffer Big Sur State Park

One of the most revered state parks in California, Pfeiffer Big Sur features the majestic California coastal redwood trees. Visitors marvel at these red-barked giants who can grow beyond heights of 300 feet. The central & northern California coasts, along with a few areas in Oregon are the only places in the world where these trees can be seen growing in their natural habitat.

Monterey Bay National Marine Sanctuary

Designated in 1992, Monterey Bay National Marine Sanctuary (MBNMS) is a federally protected marine area offshore of California's central coast. Known as the "Serengeti of the Sea," this remarkably productive marine environment harbors an incredible variety of marine life.

Point Lobos State Natural Reserve

Acclaimed as the "crown jewel" of California's 280 state parks, the 350-acre headland boasts dramatic rock formations rising from the ocean, patches of pine/oak woodland, and flower-filled meadows and grassland.
Special Child Pricing Available! Children age 12 and younger, savings up to 50%.