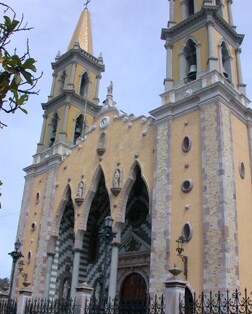 Mazatlan, Mexico
Lying just below the Tropic of Cancer, Mazatlan boasts a superb year-round climate. Mazatlan, a name that means "Place of the Deer," sits on a peninsula at the feet of the rugged Sierra Madre, and the Cerro de Neveria - "Ice Box Hill" - divides the area's rocky Pacific beaches from the broad, white-sand beaches beloved by visitors. The climate, the beaches, and the world-class sportfishing have turned this commercial fishing port into one of the world's top resort destinations. Yet while visitors flock to the markets, bathe in the sun, or marvel at the airborne ballet of the famed Papantla dancers, Mazatlan remains one of Mexico's major Pacific ports - the city exports over 40 million pounds of shrimp every year.
Read More

about Mazatlan, Mexico description
Points of Interest
Cathedral Basilica & Plaza Revolución

Teatro Angela Peralta

Golden Zone

Stone Island

Pacifico Brewery

High Divers

Copala-Concordia

Outdoor Adventure
More about Mazatlan, Mexico Points of Interest
Cathedral Basilica & Plaza Revolución

Admire the Moorish and Gothic architecture at the Cathedral Basilica of the Immaculate Conception, then head across the way to the popular Plaza Revolución with its charming gazebo and street vendors.

Teatro Angela Peralta

The Italian-style theatre, a national landmark loving restored to its 19th-century splendor, is home to a concert hall, galleries, an art school and a highly regarded conservatory of music and dance.

Golden Zone

The tourist zone, known as Zona Dorada (Golden Zone) boasts numerous four and five star hotels with private beaches, shops and restaurants, and palm-lined beaches.

Stone Island

Stone Island is less crowded and not as developed as the mainland, a haven of sunshine and ocean, with glistening sand, crashing waves, and rustling palm trees and plentiful coconuts.

Pacifico Brewery

Founded in 1900 by three German immigrants, Pacifico Brewery produces one of Mexico's finest premium brews.

High Divers

High-flying divers perform acrobatic and dangerous plunges into rocky surf from a 59-foot high ledge.

Copala-Concordia

In the lush Sierra Madre foothills, the twin colonial towns are reminiscent of yesteryear as artisans craft furniture and pottery, and cobblestones and colorful red roof tiles dot the streets.

Outdoor Adventure

From hiking to sportfishing to ziplining through the treetops, Mazatlan offers exciting adventures outdoors to suit anyone's style.
Special Child Pricing Available! Children age 12 and younger, savings up to 50%.