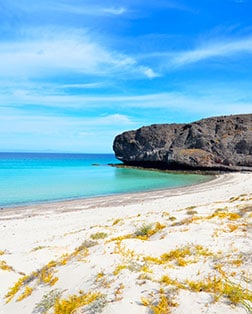 La Paz, Mexico
When Spanish conquistador Hernan Cortes sailed into this quiet little bay in 1535, he tried to establish a colony called Santa Cruz. He later abandoned it but, luckily, Sebastian Vizcaino arrived in 1596, renamed it La Paz and the colony has flourished ever since. Here, you'll find a playground of activities that Cortes couldn't even dream of. From a festive downtown full of attractions to sun-drenched beaches, renowned for their soft, golden sand, to warm, inviting water teeming with marine life, La Paz offers a little bit of everything for everybody. And isn't that what vacations are all about!?
Read More

about La Paz, Mexico description
Points of Interest
Regional Anthropology & History Museum

Cathedral de Nuestra Señora de la Paz

El Serpentario Reptile Center

Local Art

Todos Santos

Underwater Adventure

Whale Watching

Beaches
More about La Paz, Mexico Points of Interest
Regional Anthropology & History Museum

Explore a wealth of fascinating artifacts and exhibits detailing the history of the indigenous peoples who made this enchanting area their home from ancient times to the beginning of the 20th century.

Cathedral de Nuestra Señora de la Paz

Sitting in the historical heart of the city, this charming 19th century cathedral reflects California mission style of architecture. Inside are a number of paintings and statues dedicated to Virgin Mary, La Paz's patron saint.

El Serpentario Reptile Center

Get up close and personal with snakes, iguanas, lizards, tortoises, albino cobras and giant pythons at this non-profit attraction. Observe naturalists, hold a creature, or even adopt an animal.

Local Art

Among the city's most notable traits is its dedication to its handicrafts and the artisans who create a variety of unforgettable works of art.

Todos Santos

Located on the southern Baja Peninsula, this charming paradise lies between the desert and the Sierra Laguna mountain range. Quaint village life, abundant agriculture, and miles of unspoiled beaches abound.

Underwater Adventure

With an average temperature of 60°F in winter and 80°F in summer, the astonishing natural wonders of golden sand and turquoise water beckon you to swim, snorkel and scuba.

Whale Watching

The Sea of Cortez plays host to a wide and breathtaking variety of marine life including finback, gray and blue whales, as well as dolphins, sea lions and exotic fish.

Beaches

Whether you stretch out on a blanket on the golden sand, go for a refreshing dip, or explore a cove or rocky islet, the best beaches in Baja are within easy reach of La Paz.
Special Child Pricing Available! Children age 12 and younger, savings up to 50%.