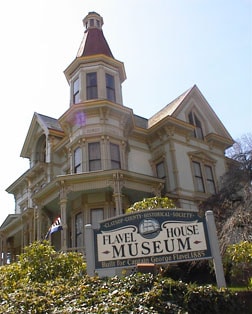 Astoria, Oregon
As the oldest American settlement west of the Rockies, Astoria offers a rich history for your exploration. It was first visited by Captain Robert Gray in 1792, by the Lewis & Clark Corps of Discovery in 1805, then adventuresome pioneers by the thousands. Now its your turn to experience the excitement of exploring Astoria.

Within a 20 mile radius, one can see dozens of exciting attractions including Fort Stevens State Park, Fort Astoria, Heritage Center Museum, Flavel House Museum, Uppertown Fire Fighters Museum, Astoria Column and the Columbia River Maritime Museum, home to one of the nation's finest displays of model ships and nautical artifacts.

Astoria offers other fun discoveries, such as historic Victorian homes and the beautiful 4.1 mile-long Astoria Bridge.
Read More

about Astoria, Oregon description
Points of Interest
Astoria Column

Fort Stevens State Park

Seaside

Columbia River Maritime Museum

Flavel House

Cannon Beach

Fort Clatsop

Tillamook Ice Creamery & Cheese Factory
More about Astoria, Oregon Points of Interest
Astoria Column

Built in 1926, this 125-foot tall structure sits atop Coxcomb Hill, Astoria's highest point. The 164-step climb up to the observation deck offers majestic views of Astoria, the Pacific Ocean and Cascade Range.

Fort Stevens State Park

Spanning 84 years as a military defense installation, this Civil War-era fort was fired upon during WWII by a Japanese submarine. Today, the Park offers 3,700 acres of history and beauty.

Seaside

At the end of the Lewis and Clark trail, this charming resort town offers quaint boutiques, unique art galleries, and miles of powder-soft beach. Stores along the ocean front boardwalk sell the famous saltwater taffy.

Columbia River Maritime Museum

Home to one of the West Coast's most astounding collections of nautical artifacts, the Museum displays 24,000 square feet of exhibits including a remarkable floating lighthouse called Columbia.

Flavel House

Built in 1885, this lovely home is one of the best-preserved examples of Queen Anne-style architecture in the Northwest. Its decorative exterior distinguished by a fourth-story cupola was seen in the movie "The Goonies."

Cannon Beach

Surrounded by the rugged natural beauty of Oregon's forests, ocean beaches and rivers, this charming coastal village is famous for Haystack Rock, a 235-foot tall rock formation that rests off shore.

Fort Clatsop

Nestled in the verdant forests and wetlands of the Coastal Range, this 50-foot by 50-foot structure is a stunning replica of the seven-room fort built by members of the Lewis and Clark expedition.

Tillamook Ice Creamery & Cheese Factory

Producing 167,000 pounds of cheese every day, Tillamook is synonymous with cheese, butter, and ice cream. A tasting counter offers delicious samples.
Special Child Pricing Available! Children age 12 and younger, savings up to 50%.